Entrails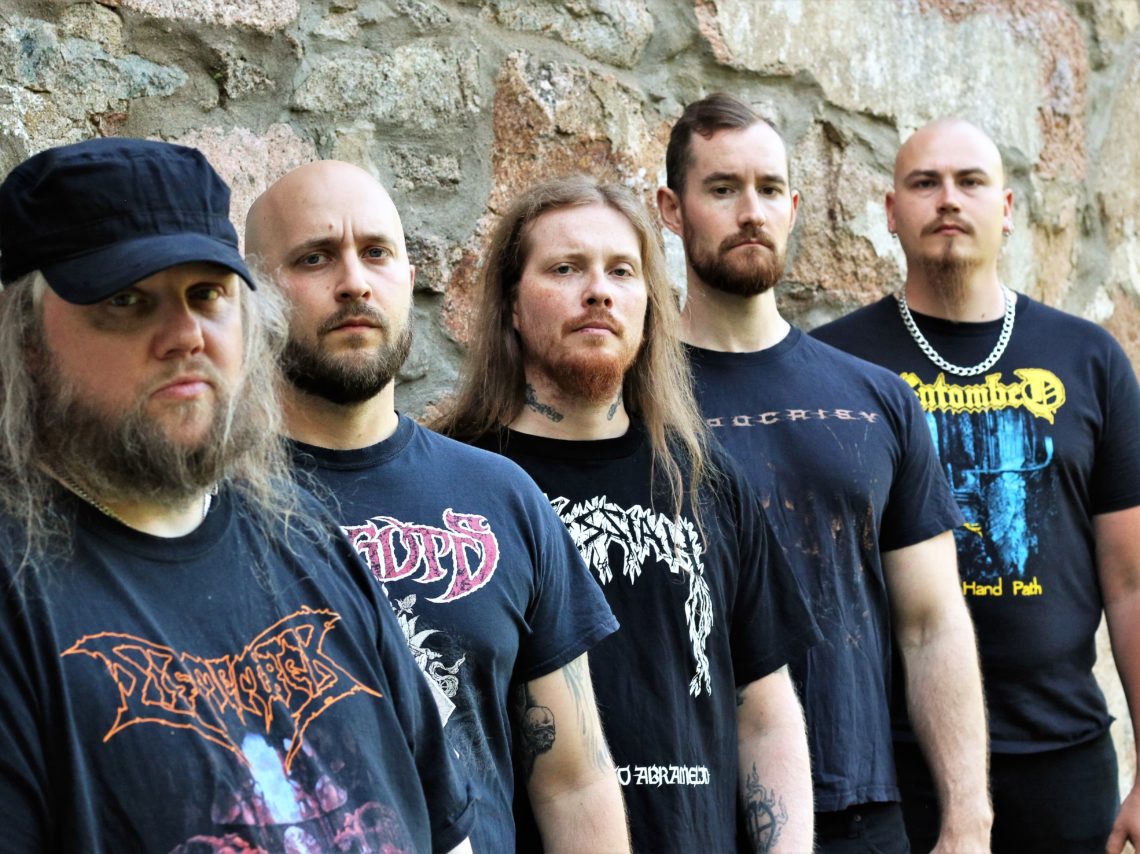 Biography
Entrails formed in 1990/91. Their goal was to follow the scene that Stockholm brought to light around the time with bands like Dismember, Entombed, Grave and many more that cemented the brilliant Swedish death metal sound from T. Skogsberg's Sunlight studio. Unfortunately, all attempts to record a demo at the time did not produce satisfactory results.
In 1994, half of the line-up decided to move on and do other things, and by that time Entrails was put to rest as an official band. Jimmy Lundqvist (guitars) continued writing songs in the following years, but even that was put to rest in 1998.
In 2008, Entrails was finally resurrected. Lundqvist found some old Entrails recordings in a tape collection and decided that they deserved to be released as they should have been originally. With modern recording technology, the first two Entrails demos finally took shape. Vocal duties were eventually helmed by Jocke Svensson.
Following the demos Reborn and Human Decay, Entrails signed to the German label FDA Rekotz and released their debut album Tales From The Morgue in June 2010. The album featured songs from both demos with a sound that had similarities to all those glorious Swedish death metal albums recorded in the early 90s at the infamous Sunlight studios. All songs were newly recorded and Dan Swanö was hired for the mixing and mastering process. After the release of the debut album, Entrails welcomed Adde Mitroulis as the permanent drummer in the summer of 2010.
In September 2011, the second album The Tomb Awaits was released, featuring the rest of the songs from both demos as well as some old songs, mixed with some new material. FDA Rekotz handled the European release while Dark Descent Records released it in North America. The reviews and feedback about The Tomb Awaits were even more massive, with the album receiving perfect ratings from several magazines and blogs.
During the winter of 2011/2012, the band negotiated with several labels about a new record deal. Entrails was officially signed by Metal Blade Records in March of 2012. After playing numerous summer festivals (such as Party.San and Summer Breeze), Entrails started recording their new album in September in Lundqvist's own studio. The recordings were finished by the end of the year and the material got sent to Dan Swanö once again for mixing and mastering. Raging Death was released in May 2013.
After the release, Pontus Samuelsson replaced Mathias Nilsson on guitars, and the band became more focused than before. Lundqvist moved his studio into the woodshed where it all began in the 90s. The new/old surrounding inspired Jimmy to write material like never before, and several songs were written during the fall of 2013. One of the new songs ended up on a 7″, Berzerk, that was released in January 2014 via Metal Blade Records. The B-side featured a cover song by Swedish Heavy Metal legends Heavy Load.
In 2014, Entrails did some shows in the UK, played festivals like Maryland Deathfest (USA) and Stonehenge (Netherlands), and then released the Resurrected From The Grave – Demo Collection, which contained the two demos from 2009 (Reborn & Human Decay). Meanwhile, in Sweden, Lundqvist worked on his studio, adding more space to record drums – and by doing so, the "Bloodshed Studio" was complete. Soon after, rehearsals and recording for the new album began. Dan Swanö mixed and mastered the album, entitled Obliteration, with a May 2015 release through Metal Blade Records.
After playing some shows in 2015, Jocke Svensson and Adde Mitroulis left the band in early 2016 on good terms, and were replaced by singer/bass player Tommy Carlsson and drummer Martin Michaelsson.
During 2016, Entrails appeared at other prestigious festivals, such as Hellfest, Dokkem and Coast Rock Open Air. These shows gave the band the confidence they needed, and they started writing their next full-length. Lundqvist started work on a new album, and in the summer, they all started to learn and prepare for the recordings, which started in December 2016 in Lundqvist's Bloodshed Studio. Dan Swanö once again handled the mixing and mastering for the album, entitled World Inferno, which was released in June 2017 via Metal Blade Records.
After the album release Tommy and Martin had to quit the band and Markus Brorsson and Freddy Ortcheid joined Entrails to help on the live front. During 2018 Lundqvist wrote and recorded demos for next album. By the time Lundqvist digged deep and analyzed the tape collections from the past and found some good material to be used. Material that was even made before Entrails appeared first in the 90s and some more stuff that was written after Entrails were put to sleep as a band in mid-Nineties. Together with some new influences 11 songs were put together. Before everything was finished Martin and Freddy left only 10 months after they joined the band due to conflicting time schedules.
Penki and Jimmy decided to make the album anyway as planned and looked out for new guys at the same time. Thanks to social media they found a new session drummer in Brynjar Helgetund from Norway who recorded the album with them. Shortly after Markus Svensson joined the band as their new guitarist. And just a little later Arvid Borg did some tryouts and was recruited as the new guy behind the drums for the future. And while Brynjar finished the drumming for the album the band started to learn older songs to prepare for shows and to finish the recordings at home in their own Bloodshed studios. Meanwhile Marc from Art Wars media design realized the cover art and whole layout for the new album. Early May 2019 the stuff was sent to Dan Swanö for mixing and mastering duties. Dan brought back the massive wall of sound to this new opus. "Rise Of the Reaper" was set as the title and a release on October 11th is set by Metal Blade Records.
In the beginning of 2020 Entrails did some small touring with the legends Massacre and the Swedish friends in Gods Forsaken arranged by our booker Black Serpent Promotion and this was while they spoke on the radio about a deadly virus that´s spreading globally and started in China. After coming home one country after another had a lockdown so every planned show during 2020 was postponed to 2021 and a pandemic was announced worldwide. Entrails took a small break and didn't do any rehearsals but was already talking about a follow up to Rise of the reaper and after 4 Albums with Metal Blade continue with another label and spread their wings so to speak. So, Entrails began to write songs and had em sent over to each other for learning for upcoming recordings. And in January 2021 Arvid went to their own studio Bloodshed Studio and recorded the drums over a weekend. Then new waves of virus spreading took shape during the winter and spring, so Guitars and Bass was a bit delayed. But was finally recorded in May and after that Penki came and did some vocal recording and next step could begin. As they didn't have a label ready and signed to and could do some financing Jimmy took care of the mixing. And this is a new way to be tried outby doing their own mix and then let Dan Swanö do the mastering instead. Entrails got contacted by Hammerheart records and after a few emails a deal was signed in August. That mean that next album will be released by Hammerheart Records in spring 2022. And all booked shows from 2021 will take place 2022 instead. Plus many others.