Blind Illusion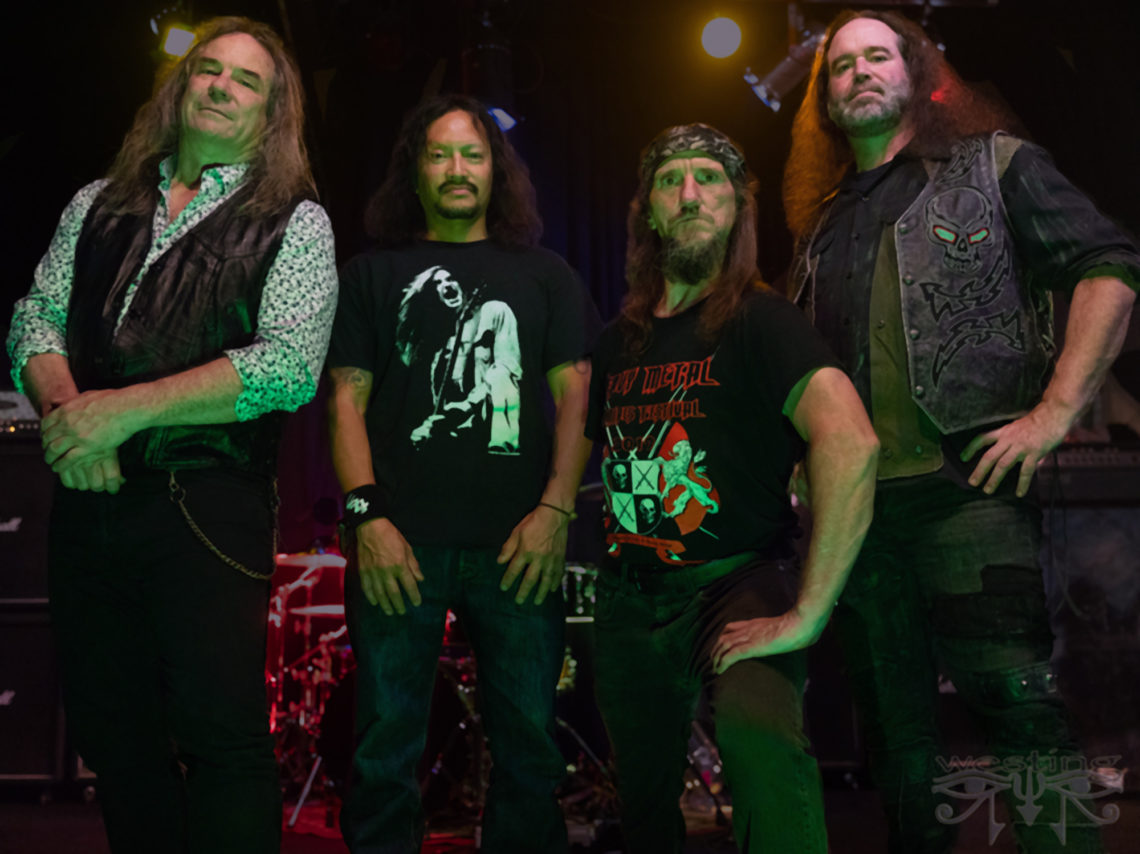 Biography
The Epic Original Progressive Thrash Metal band established in 1978! It's first release featured Mark Biederman, Les Claypool, Larry Lalonde, and Mig Miner on the cult classic album The Sane Asylum.
As of August 10th 2020 we have announce Andy Galeon previously of Death Angel as our new drummer. We have been in the studio recording brand new music and it is sounding killer!! We can't wait to release the first song for you to hear. The current line up features Andy Galeon on Drums, Doug Piercy of Heathen on Guitar, Bassist Tom Gears and Blind Illusion band leader Mark Biedermann!
The sound is heavy and we feel something special is being recorded. Amid these wild times of Covid we are happily laying down some intesnse Thrash Metal for your ears! We will keep you updated as we progress!
Blind Illusion was formed by-15 year old Mark Biedermann, along with drummer Bret Hern and bassist Les Claypool. The band's earliest sound had been musically rooted as progressive metal, with Biedermann citing as his main inspirations Rush, King Crimson, Led Zeppelin, Black Sabbath, Van Halen and Jethro Tull. However, external input from later musicians, many with ties to the Bay Area thrash scene would add a Thrash Metal direction to the band. In 1983 live recordings traded by fans with songs like "Death Noise", "Darkness", "Kamikaze",  "World That's an Illusion", "Helter Skelter (Beatles)", and "Concerto"  were part of their set list. Blind Illusion had already released 2 demos by 1983. During this period, Blind Illusion played extensively with bands such as Exodus, Testament, Death Angel, Metallica and Possessed playing shows throughout the area throught the 80's. Mark Biedermann took over vocal duties in place of former singer Dave White who left the band to join Heathen and released a third demo Trilogy of Terror that was produced by Metallica's guitarist Kirk Hammett.
Blind Illusion Sane Asylum line-up: Marc Biedermann on lead guitar and vocals, Larry Lalonde on guitar, Les Claypool on bass and drummer Mike Miner.
The band also added second guitarist John Marshall (later of Metal Church) who, in 1987, would be replaced by guitarist Larry LaLonde, formerly of pioneering death metal band Possessed. In the same year, Blind Illusion signed a record deal with Music for Nations on their Under One Flag Record/Combat division, with whom the band recorded their debut record in 1987, The Sane Asylum, which was released in 1988. The album was considered a Thrash Metal classic, featuring tracks such as Vengeance is Mine, Death Noise, Kamakazi, Smash The Crystal, Blood Shower etc.. At the same time Mark Biedermann worked with producer Sandy Pearlman in 1987 contributing rhythm and guitar leads on four songs for Blue Öyster Cult on their Imaginos album along side Joe Satriani and Robbie Krieger from The Doors. Metal Mind Productions re-distributed a limited edition pressing of The Sane Asylum in 2007 as the 1988 Combat Records released version of the album had been long out of print. Mark Biedermann reformed Blind Illusion in 2009 with a new-lineup, releasing Demon Master on July 7, 2010. In December 2013, Biedermann bumped into DRI's Bass player and Metal Photographer Harald Oimoen in Berkeley, California. Harald called drummer and long time friend Cire the same day to ask him if he wanted to join forces and help put Mark and his legendary music back into the limelight. World in Sound Records out of Germany re-mastered and released The Sane Asylum in March 2015 with bonus tracks from"Trilogy of Terror" demo.
Harald convinced Mark to go back to his roots of Progressive Thrash Metal again after the lukewarm reception to Demon Master. In April 2017 Guitar Legend Doug Piercy who has known Mark since 1982 joined forces with his old friend in Blind Illusion. Due to Haralds conflicting bands scheduling, Tom Gears a veteran of many local bands passed audition instantly, replacing Harald O on Bass. After a successful European Tour in the Summer of 2017 Blind Illusion found itself back in rehearsals working on their new EP 2018. In 2018 Blind Illusion embarked on their second European Tour and were featured at the Keep It True Festival in Germany. After the tour Blind Illusion decided to hit the studio with James Boblak mixing/ engineering and mastered by Legendary Mastering Guru Dave Collins. "2018" EP Produced by Doug Piercy and Blind Illusion.
In 2019 the band reached out to Serg MP the bassist for Bestial Invasion to find a touring partner in Europe. He introduced us the band to Fusion Bomb from Luxembourg. The two bands hit it off right away and scheduled the Slam Asylum 2019 tour of Germany, Belgium and the Netherlands. Special thanks for booking the tour are given to Jochen Boellath from Daredevil Records. Many thanks to one of the bands biggest supporters Paul van Rijswijk, guitarist of the Dutch Heavy Metal band Emerald for booking Blind Illusion on the Heavy Metal Maniacs festival in Amstelveen.
After returning from the tour the band is focused on releasing a new album of original music for release in 2022!