News
November 5 2018
Phlebotomized premiere lyric video
Dutch Innovative Death Metal Masters Phlebotomized has revealed the first single called "Proclamation Of A Terrified Breed", taken from the upcoming album "Deformation Of Humanity"! The album is set for a januari 2019 release via Hammerheart Records.
Tracklist:
1. Premonition (Impending Doom)
2. Chambre Ardente
3. Descend to Deviance
4. Eyes on the Prize
5. Desideratum
6. My Dear,…
7. Proclamation of a Terrified "Breed"
8. Until the End
9. Deformation of Humanity
10. Until the End – Reprise
11. Ataraxia II (CD only)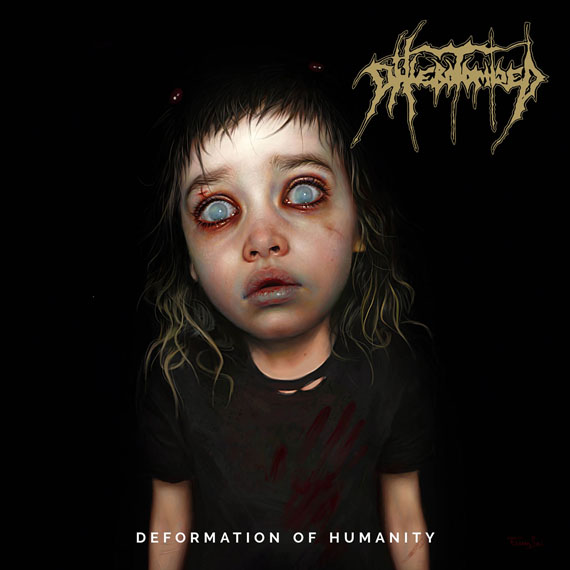 The album took what Demilich wrote on "Nespithe" and build on it. The band took what Nocturnus did on "The Key" and added their own little twist. It has got the twisting and amorphous song structures of early At The Gates, and then some. It had a melancholic feeling only achieved better by the mighty old My Dying Bride.
From those days, to the present: "Deformation of Humanity" was written and recorded during a long process from 2015 until 2018 and sees the band return to their roots, back to where they left us in 1994. The majority of "Deformation of Humanity" is still doomy and mid-paced, but also contains really fast parts. It actually creates a great atmosphere, thereby putting the keyboards to proper use. It sounds very inspiring and atmospheric, full of details, skilled musicianship and has a top-notch production which is very warm and rich. The first thing you notice – hovering above the pounding guitar riffs – are the keyboard passages that serve the rhythm section. Melancholic, yet brutal, the songs present a story. The music does not really have a true defined form. You will hear grunted vocals, as well as the occasional clean vocal passage. Acoustic guitars open songs, while the keyboards are ever-present. A gloomy atmosphere is placed, while the keyboard dances with violent Death Metal guitar riffs.
If you are a Death Metal fan that still craves for the 90's, you need this! We guarantee you it does not get better than this. Simple! If you need to bang your head check out "Deformation of Humanity" for some real Old School Death Metal. For those of you who need not mindlessly bang their head, who can allow things like atmosphere and intelligence to occasionally enter into your realm, you will really appreciate this just as well. But still, we would not justify what Phlebotomized delivers on this come-back album, because there is so much more to hear and discover. Something that is rare these days, an album that grows, an album that reveals something new with each spin. Perhaps it is again an album ahead of its time, although it is definitely looking back in time just as well.
www.phlebotomizedmetal.com
www.facebook.com/phlebotomized.official